Buch der Erinnerung
In Erinnerung an Keith-David Bunyan ...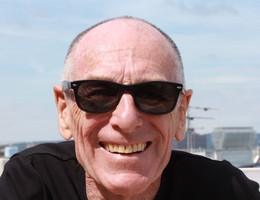 Most loved man on earth
| | |
| --- | --- |
| Name: | Bunyan, Keith-David |
| Geburtsort: | Otley |
| Geboren am: | 16.09.1949 |
| Gestorben am: | 02.12.2016 |
| Gestorben in: | Kirchzarten-Burg |
Dear family, dear friends, dearest Gabi,
you asked me to say some words – I do it in mourning, full of sympathy and I love to do it for this very unique person.
The first time I got in touch with Keith I was a bit upset. At that time I was your boss Gabi, and you just came back from a 4 week trip to South Africa and immediately asked me for another week of holidays to go to South Africa again. Reluctantly I agreed and you came back with Keith – and so much in love.
Then I met your wonderful Keith and immediatly took him to my heart.
When I think about Keith I'm thinking about his openness, impartiality and his serious interest in all humans and all things he came in touch with.
I'm thinking about his total dedication to everything he began. I'm thinking about his shop in Neustadt where he performed magic and created a beautiful perfect little world out of things which had been lying disregarded in our attic. His unmistakable feeling for quality and style.
I'm thinking about the dedication to my garden and not only to mine. I'm sure he knews every leaf and flower personally and they know him.
The same dedication with which he met people, animals and nature - overlooking, sincere and respectful.
I'm thinking about his arching charme and the fun he had when telling us his little stories and talking about his adventures, every day occurances closely observed and commented with tender and love. And how tickled pink he was if something worked out especially well. We laughed so much together.
I often chaffed him about his perfectness – just have a look at Gabis kitchen drawer – and at the same time I admired him for the consequence which came so much out of his heart.
Keith had a very intense presence as he had a very special talent. With his disarmed jollity and his honesty he could open and win hearts.
It takes one minute zu recognize somebody, one hour to rate, one day to be fond of. But it takes a lifetime to forget somebody.
Will will never forget Keith.
Brigitte
Liebe Familie, liebe Freunde, meine liebste Gabi,
du hast mich gebeten ein paar Worte zu sagen – das mache ich voll Trauer, voll Anteilnahme und ich mache es gerne für einen ganz besonderen Menschen.
Mein erster Kontakt mit Keith war ein wenig ärgerlich…Gabi, ich war damals deine Chefin und du kamst von einem vierwöchigen Trip aus Südafrika zurück und hast mir als erstes eröffnet, dass du ganz dringend und sofort nochmal eine Woche Urlaub haben musst, um nochmals nach Südafrika zu fliegen. Zähneknirschend hab ich zugestimmt. Dann kamst du zurück mit Keith – und so verliebt.
Dann habe ich ihn kennengelernt, deinen wunderbaren Keith und sofort ins Herz geschlossen.
Wenn ich an Keith denke, denke ich an seine Offenheit, Unvoreingenommenheit und sein ehrliches Interesse an allen Menschen und allen Dingen mit denen er in Berührung kam.
Ich denke an seine völlige Hingabe an alles was er angefangen hat, ich denke an seinen Laden in Neustadt, in dem er aus so vielen Dingen die für uns wertlos auf dem Speicher lagen eine wunderschöne und perfekte kleine Welt gezaubert hat. Sein untrügliches Gefühl für Qualität und Stil.
Ich denke an die Hingabe mit der er meinen Garten – und nicht nur meinen – gepflegt hat. Ich bin sicher, er kannte jedes Blatt und jede Blüte persönlich. Und sie kannten ihn.
Diese Hingabe mit denen er den Menschen begegnet ist, den Tieren und der Natur, zugewandt, aufrichtig und voll Respekt.
Ich denke an seinen spitzbübischen Charme und den Spaß den er hatte, wenn er seine Erlebnisse und Geschichten erzählt hat, alltägliche Dinge pointiert beobachtet und liebevoll kommentiert. Und seine diebische Freude, wenn etwas besonders geglückt war. Wir haben viel zusammen gelacht.
Ich habe ihn oft geneckt wegen seiner Perfektion - ein Blick in Gabis Küchenschubladen genügt - und gleichzeitig habe ich ihn bewundert für diese Konsequenz, die so sehr aus dem Herzen kam.
Keith hatte eine ganz intensive Präsenz weil er eine ganz besondere Gabe hatte - mit seiner entwaffnenden Fröhlichkeit und seiner Aufrichtigkeit Herzen zu öffnen und zu gewinnen.
Es dauert eine Minute um eine Person zu bemerken, eine Stunde um sie einzuschätzen, einen Tag um sie lieb zu haben, aber es dauert ein ganzes Leben um sie wieder zu vergessen.
Wir werden Keith nie vergessen.
Brigitte Traub
You made our World a better Place
Dear Keith,
Still listening to your gentle voice, still seeing the smile on your face, still feeling the warmth and love you give to other people.
Thank you so much for every talk, for every laughter. You made our world a better place.
I am sure that all seeds of love, wisdom, generosity and tolerance you sowed in the hearts of your family and friends will always keep on growing.
Rest in peace. The place you are now is beautiful.
Jutta
A celebration for the life of our brother Keith Bunyan
You can shed tears now that he has gone
or you can smile because he has lived.
You can close your eyes and pray that he will come back,
or you can open your eyes and see all that he has left.
Your heart can be empty because you can't see him,
or you can be full of the love you shared.
You can remember him and only that he has gone,
or you can cherish his memory and let it live on.
You can cry and close your mind, be empty and turn your back,
or you can do what he would want-smile,open your eyes ,love and go on
always in our thoughts love Christine, Terry ,Julia,Justin, Daniel , Ruby ,Grace.and Lily